This is where all the crazy things in my head are laid to rest, so I can move on to the next obsession!(or back to a previous one)
Tuesday, 3 April 2012
As the release of Insurgent by Veronica Roth draws closer, we all must choose a faction. I am a proud member of Team Amity! Show your support of Amity by clicking this :
http://bit.ly/choose_amity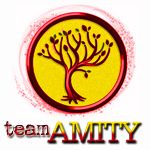 And our team leader is

So here's a link to Amity's choosing ceremony and links to the other team members- Enjoy!!
as often as you can!!